"I now realize all the dreams of my youth."
- Goethe,
Those were the first words uttered by Goethe upon his arrival in Rome in 1786. Anyone who has ever been to Rome knows exactly how he felt. The cynics may argue that Rome is just a big dirty city, but they miss the point. There is perhaps no city in the world with as much character and history. Without a doubt, Rome is my favorite city in Italy, probably even in all of Europe.
Click on image to enlarge
The Piazza Navona

The Spanish Steps

The Trevi Fountain - Legend has it that if you throw a coin over your shoulder into the Trevi Fountain, it will guarantee your return to Rome one day.

The Colosseum

(Click HERE for the map to the "Picture Rock")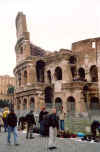 Here's Virginia at the Colosseo

The Arch of Constantine/Colosseo:

The Roman Forum Ruins:

The famous Cafe Greco, next to the Spanish Steps. Many of the greatest name in literary history used to frequent this place:

Il Castel Dal'Angelo:

St. Peters Square




In the courtyard inside the Vatican Museum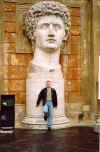 The Vatican Museum, home of the Sistine Chapel. Here's a travel tip: if you're like me and don't like waiting in lines, find out which day the Pope will be holding Mass in St Peter's square (I think it's either Tuesday or Wednesday). This is the absolute best time to plan your visit to the Vatican Museum to see the Sistine Chapel - everybody is in the square trying to get a glimpse of the Pope, so you can walk right into the Museum without having to wait in line.