<![if !supportEmptyParas]> <![endif]>
<![if !supportEmptyParas]> <![endif]>
<![if !supportEmptyParas]> <![endif]>
<![if !supportEmptyParas]> <![endif]>
The famous Bridge of Sighs. The bridge connected the courthouse to the prison, and got its name from the sound that prisoners would make as they were crossing it into the prison, knowing that they would not be seeing Bella Venezia for a longtime, if ever again.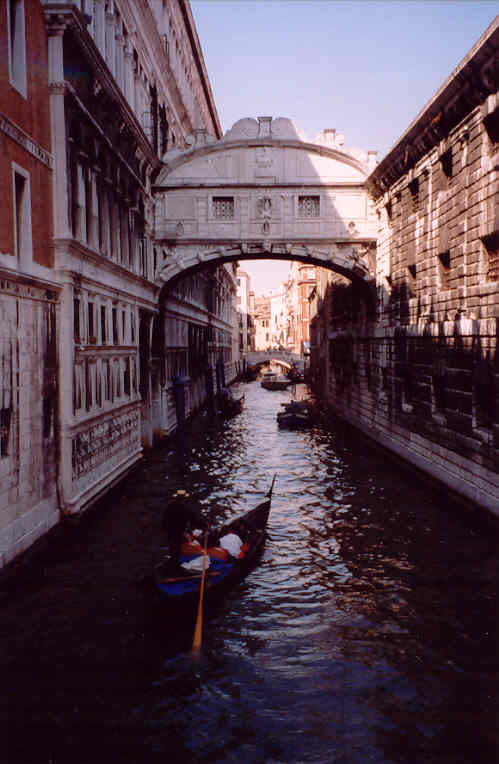 Recently, Virginia and I were fortunate to meet two wonderful ladies (or, as Virginia likes to call them - "cool chicks") who live in Venice. Their names are Theresa and Denise. They're both married to Venetians and have been living in Venice for several years. They've become good friends, and whenever we're in Venice, we usually get together for a cafe or to say hi. Denise and her husband Maurizio manage several rental properties around Venice (To check out her website, go to: www.venicerentals.com), and Theresa and her husband Michelangelo own a cute little shop called Atmosfera Veneziana, which specializes in Venetian beads and the famous Murano Art Glass (If you'd like info, email Theresa at: atmosferaveneziana@tin.it ) Here are a couple pictures of Denise and Theresa:
Virginia and Denise

Rik and Theresa

An additional benefit of Venice...
In addition to it's natural and man-made beauty and charm, Venice has something else going for it - several good Irish Pubs. I've been to all of them except for the Blackjack Pub, and I would recommend them all. The great thing about it is that there are no less than 5 or 6, which is quite a bit for a city (island) the size of Venice. Recently, my friend Steve Lester visited and he, the wife and I visited a couple of them - The Devil's Forest Pub and the Irish Shark. The Devil's Forest was very enjoyable, and, in addition to Guinness, they actually have Kilkenny's Cream Ale on tap there, which puts them at the top of the list in my book. Here's a few pictures:
<![if !supportEmptyParas]> <![endif]>
<![if !supportEmptyParas]> <![endif]>
<![if !supportEmptyParas]> <![endif]>
<![if !supportEmptyParas]> <![endif]>
<![if !supportEmptyParas]> <![endif]>
Some miscellaneous Venice info...
Eating...
Italians have a saying about Venice: "Si spende tanto e si mangia male" - You spend a lot and you eat badly. That pretty much sums up eating in Venice. People ask me all the time to recommend good, cheap places to eat in Venice, and the harsh reality is that there's no such thing. Well, I'm sure there are a few places, but I've never found them, and nobody I've ever met - including locals - knows of any place that's good AND cheap. When we go, we usually just eat at a pizzeria, or get the panini. You just can't go wrong with a pizza - and it's cheap too. Occasionally,we'll try a ristorante, trattoria, or an osteria with mixed results. Like anywhere else, it's hit or miss. Also, because Venice is an island, they don't make their own wine there. They have to import it from the mainland, so the "house wine" is not the same quality as you'll find in the rest of Italy.
Venetian Masks...
In case you haven't figured it out yet, Venice is expensive. And the masks are no exception. Venetian Masks are works of art, and are all very unique. If you want an authentic mask, it should be made of either paper-mache or leather. The ceramic ones are not authentic. You'll see masks being sold all over Venice, but most places grossly overcharge for them. On one of our visits, Virginia and I found an out-of-the-way mask shop called La Commedia. I can't recall the guy's name, but he has a very good selection of masks - all hand made paper mache - for reasonable prices. You can find his shop at S. Polo, Calle del Tabacco, 2486, near the Campo S. Stin. (Click Here to see some pictures)
Recommended Reading...
If you've been to Venice and truly loved it, then I'd recommend Ernest Hemmingway's Across The River and Into the Trees. It takes place almost entirely in Venice, and presents the city in a unique way. It starts a little slow, but it's a beautiful book. The entire Veneto region plays a part in the story, and Vicenza is even mentioned a couple times. You can also visit a couple places that feature prominently in the story such as Harry's Bar and the Gritti Palace. After finishing the book, we did a day trip to Venice and I made it a Hemingway Day by checking out a few of the places. Unbelievably expensive, but very cool.
Good Venice Links…
The best site you'll find is this one: www.venetia.it. It's BY FAR the best informational site on Venice on the net.
<![if !supportEmptyParas]> <![endif]>
<![if !supportEmptyParas]> <![endif]>